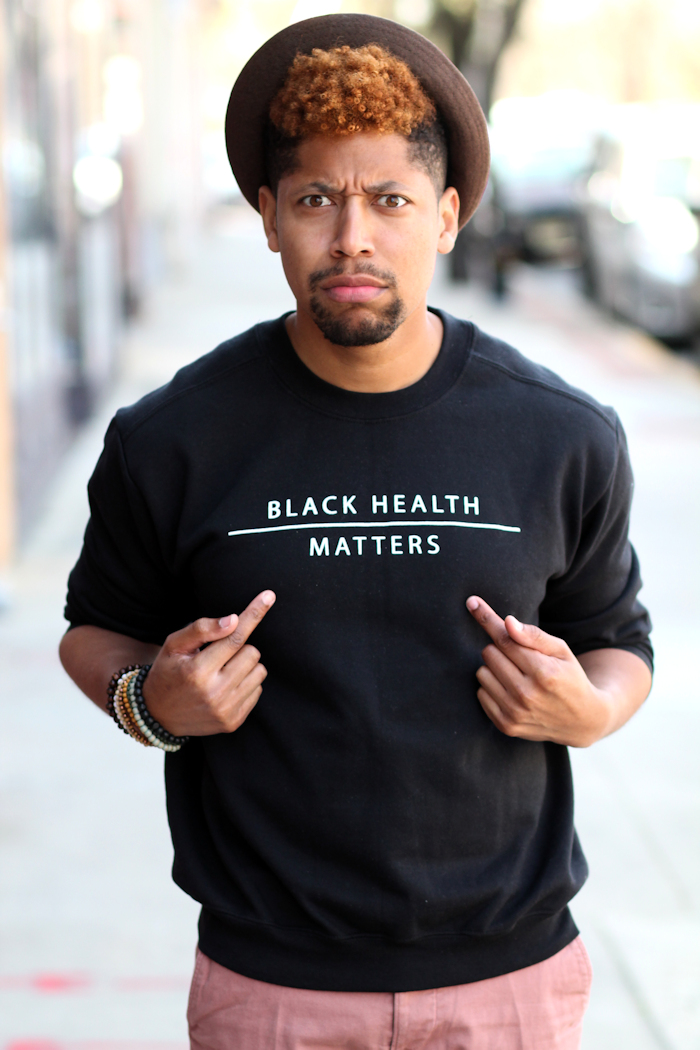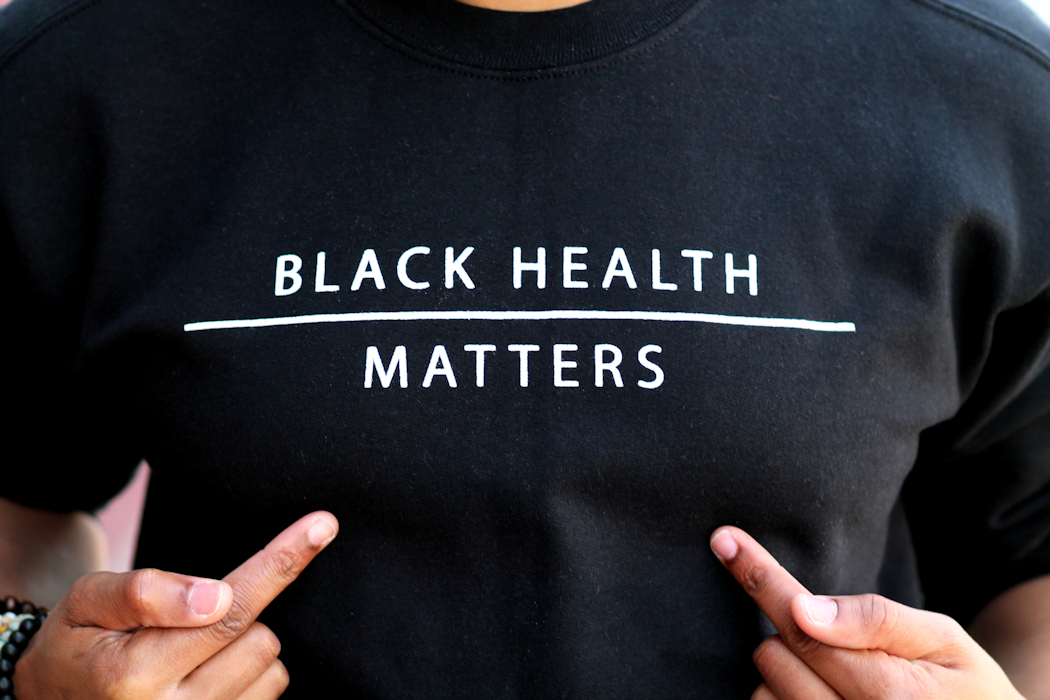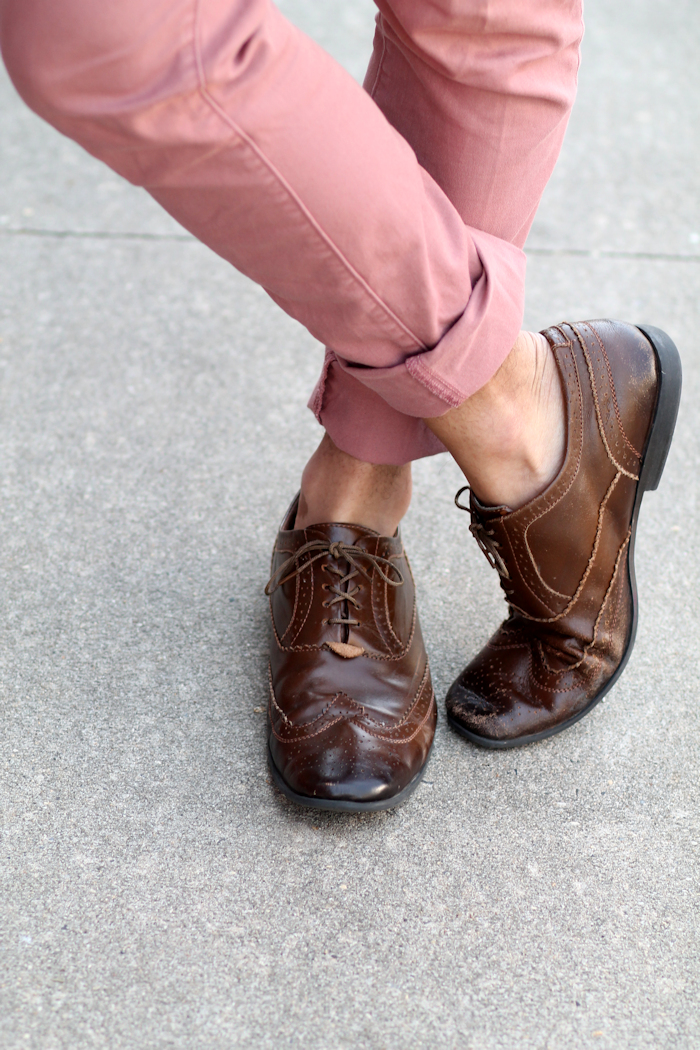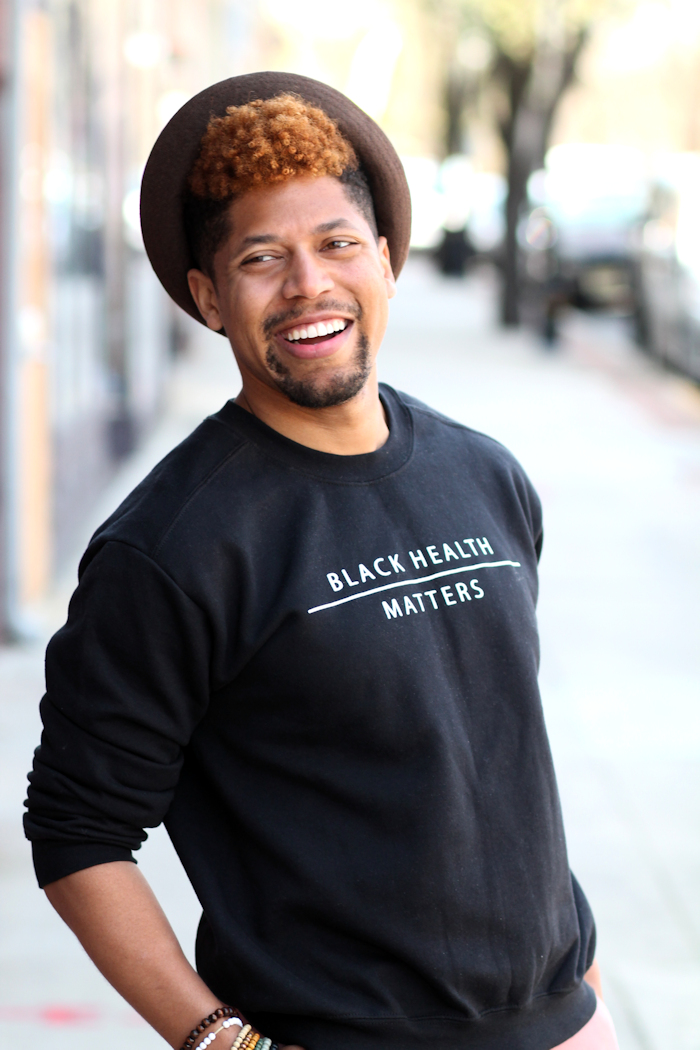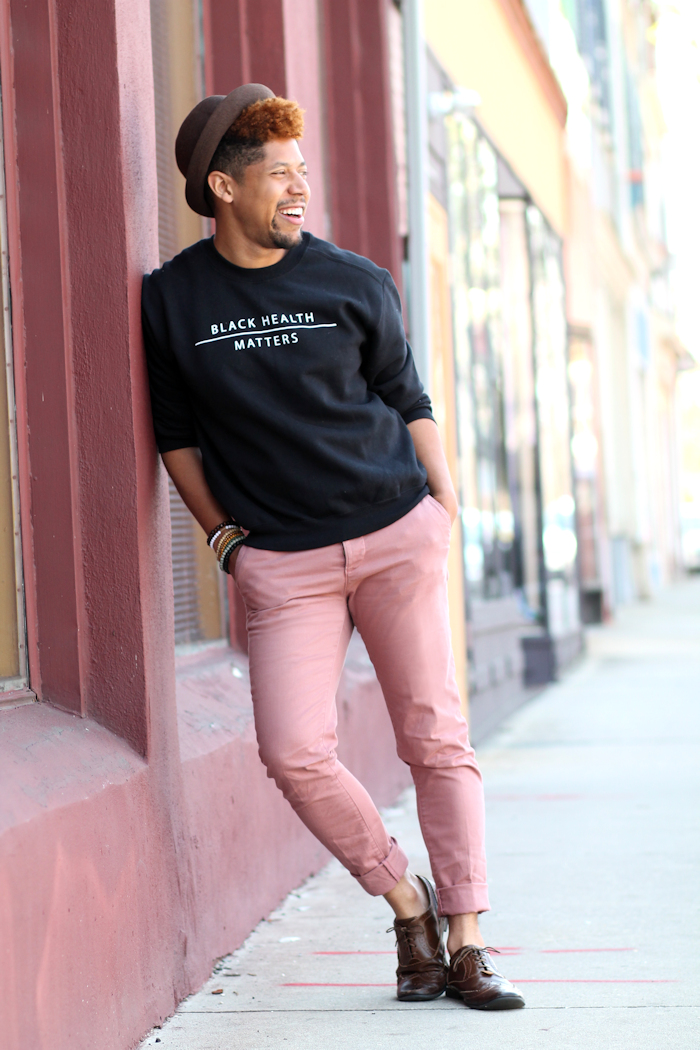 What I'm Wearing
Sweatshirt: BLKHLTH| Chinos: ASOS | Shoes: Steve Madden | Fedora: H&M
For those of you who don't know, I have a soft spot for any and everything health related. From environmental studies to mental health, the entire discipline is very intriguing to me. Very broad, I know! Recently, I had an opportunity to collaborate with an organization that provides health related resources to the black community,  BLKHLTH. According to their website, "BLKHLTH aims to create a space where health information is centralized and accessible. We provide engaging content, community events and professional services with the goal of empowering the black community to improve our health and wellness." Dope, right? They are truly amazing!
Why do we need help finding resources? Doesn't everyone have a phone? Yes, we do live in a world where our electronic resources are available at our fingertips. However, everything on the internet is not easily accessible, especially if you don't know where to look. Organizations like BLKHLTH help educate people of color and provide resources for maintaining a healthy way of life. With that being said, I put together this look to help spread the BLKHLTH message.  I styled the popular, "Black Health Matters" crewneck sweatshirt  with a pair of chinos, leather oxfords, and porkpie fedora hat. Looking good, right?
Continuing with this theme, I thought it would be a great idea to step away from fashion and discuss my personal journey towards mental health. Personal? I know, I know, I have yet to share anything really personal about my life on Brycelennon.com. So, consider this a downgraded, E! True Hollywood Story episode. Ha! So, enjoy while it lasts! Don't get too comfortable.
Testimony
My mental health journey began roughly two years ago. Since then, I've been fully embraced in loving all aspects of myself, including my emotional side. Emotions? Why is showing emotions a bad thing? Excuse me, have you been living under a rock for years?! Culturally, showing emotion is considered a sign of weakness, especially as a man of color. We all know that there are no tears in the black household. Tears, what are tears? You better suck it up or get ready to fight. That's how many black boys are taught to deal with their emotions at an early age. Unfortunately, that's a reality for many of us, and that's how we survive.
Over time, those suppressed feelings of sadness and anger are exposed eventually. For myself, these emotions are usually masked behind a nonchalant mentality or a series of complaints. On one accord, I would feed my confirmation bias with a bunch of facts to validate my negative thoughts, while any other time I would complain to everyone about my problems without finding a solution. You see, I was the guy that never knew how to address or deal with his emotions, nor did I know how to be honest with myself.
It wasn't until I lost a sense of self control when I decided to seek professional help. Mind you, this wasn't the first time I allowed my emotions to run rapid, but this was definitely the breaking point. Like any other new venture, I was so nervous going to my first session. Why? You know, only "crazy" people go to therapy. Well, that's what everyone said, but it wasn't about them this time. For once, everything is going to be about me.
Two years later, everything is still about me. With the help and guidance from my therapist, I have a better understanding of myself and how to maintain my #blackboyjoy. No need to get into specifics, but my mental health journey is a never ending process. Now that I am fully immersed in this pursuit of happiness, there is no excuse to be silent anymore.
Back to our regular scheduled programming
Don't tease me for humanizing myself a bit, but that came from the heart. Do you have a personal health story you would like to share? Feel free to drop some comments below.
Thanks again,
-Bryce Lennon
P.S. Don't forget to pick up your "Black Health Matters" sweatshirt here!