---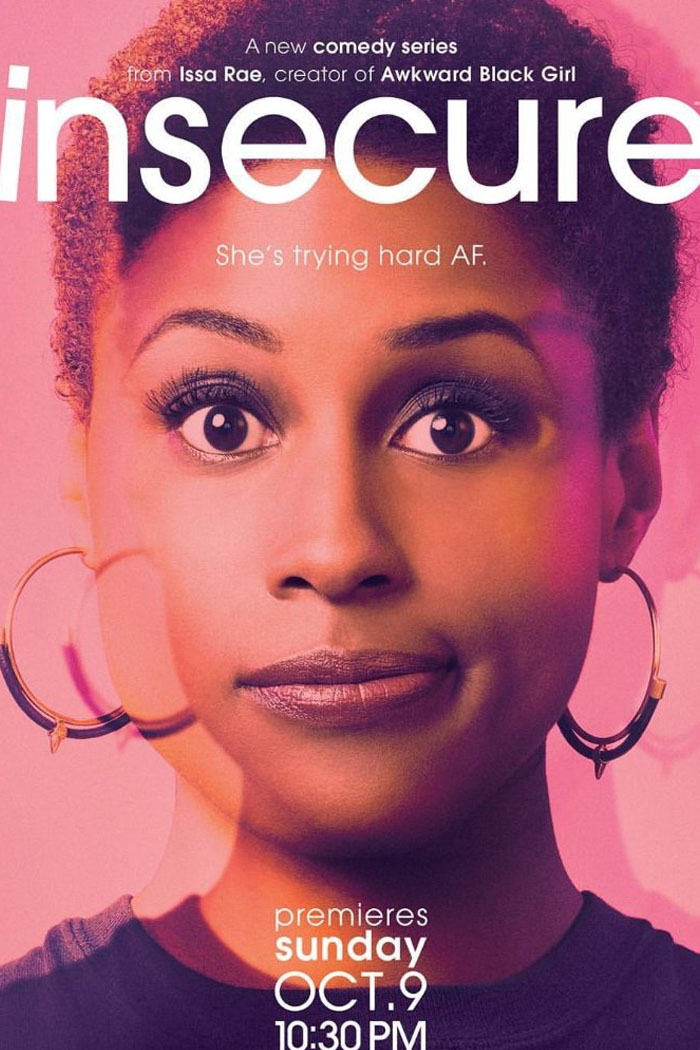 Source: HBO
As a fan of Issa Rae, I've been following her rise to fame since "Awkward Black Girl" premiered on YOUTUBE back in 2011. So, when word broke out about Insecure, I knew it was going to be an instant success. Based on how the first season ended, it's safe to say that the show is the closest thing we have to reality on television. So, what can we expect from Season two?
Before I take on that question, let's discuss the show and where it fits in our current society. So, what the heck is Insecure all about?
"Created by Issa Rae and Larry Wilmore, the comedy series Insecure explores the black female experience. Rae stars as Issa and Yvonne Orji stars as Molly. Over the course of the season, Issa attempts to figure out what she wants out of life and how to take control of it, while fumbling her way through this journey. Molly, a corporate attorney who appears to have everything together professionally, struggles inside as she looks for external ways to fix her life." -HBO
Two words that accurately describe Insecure in a nutshell, awkward and controversial, hence the show's large fan base (Think about it, there hasn't been a television show that authentically depicts African American women in a positive light since Girlfriends, which is ridiculous, to say the least.) For example, most twenty something year olds have awkward tendencies (Whether we care to admit this to ourselves is a completely different story). Plus, we live in a world where controversial discussions are always in rotation. Controversial in a sense that everyone will interpret the show in their own way, based on their own personal experiences.
Now, let's revisit the original question. What can we expect from Season two?
A full cast, Girlfriends Style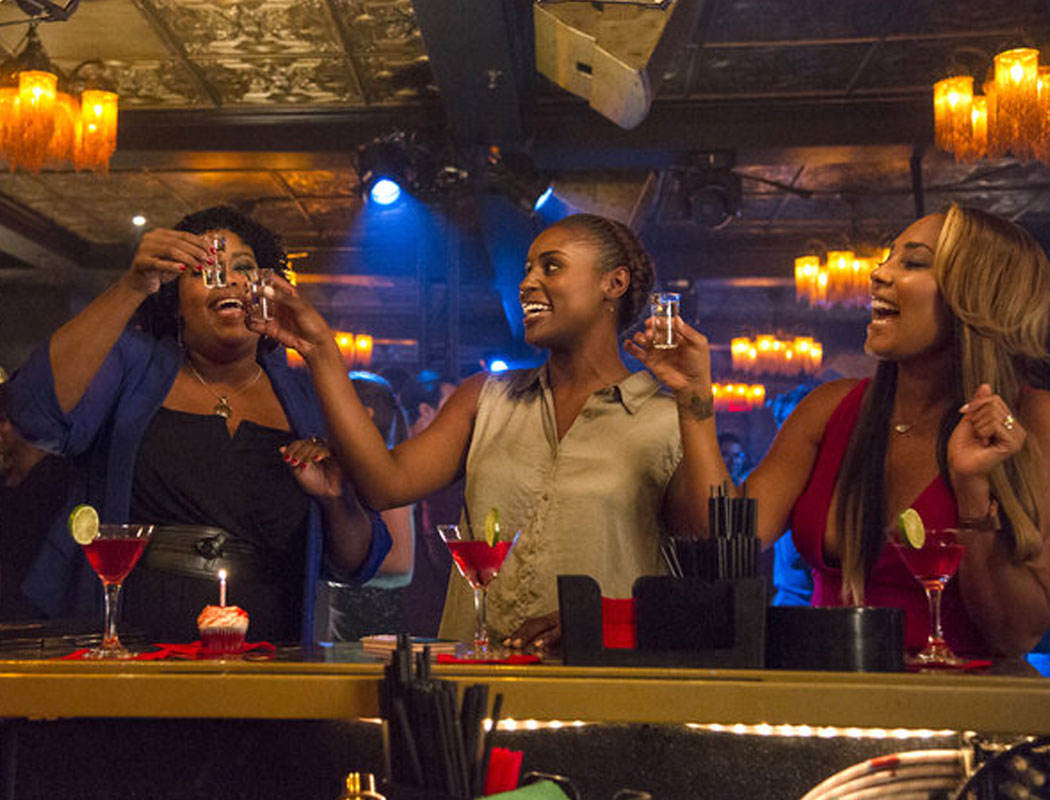 Source: HBO
Earlier in season one, we were introduced to supporting characters, Tiffany and Kelli, friends of Issa and Molly. From what we know, Tiffany is Molly's sorority sister and friend, and Kelli is a mutual acquaintance between both Issa and Molli. Both characters bring a different dynamic to the show. Tiffany is the stuffy married friend, and she's too good for everything, ltierally. She has more in common with Molly than Issa on a surface level. However, Tiffany is far more reserved than her sorority sister. On the flip side, Kelli is the raw, plus-sized acquaintance of both girls. She serves as comedic relief as well, more so than Molly. Although Tiffany falls under the stereotypical "Big Girl Best Friend" archetype, she seems sincere and shows a softer side at times.
In season two, the show should flesh out these two characters more. In one instance, there was a conversation between the girls regarding male on male sexuality. Of course, Tiffany completely glanced over the topic. She was seemed a bit uncomfortable with the thought of her husband having sexual encounters with another man, while everyone else participated in the discussion. What's that all about? Is there more to the story than meets the eye? If given the opportunity, perhaps her background can be explored further. Maybe Tiffany has noticed some of her husband's "tendencies" in the past, and is in complete denial. Insecure can go so many ways with that storyline.
Let's not forget to mention our girl Kelli. We hardly know anything about her, other than the fact that she has a cousin. Can develop her character even further? There are some many possibilities here!
Molly's deals with her biggest problem…Molly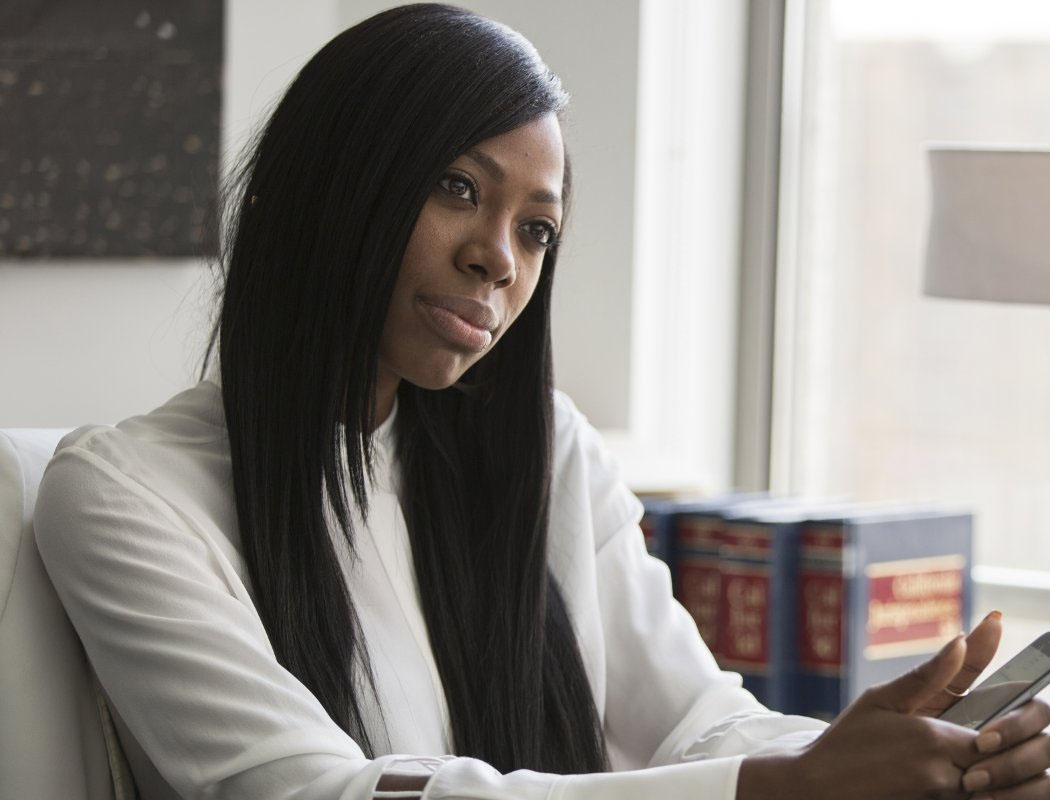 Source: HBO
Every woman of color has a Molly in their life. Wait, what the heck is a Molly? I thought she was just a character! Come on, you know Molly. She is the pretty, successful, and loyal friend that always has your back no matter what. She's perfect for comic relief, her realistic viewpoints always keeps you in check, and she is the perfect shoulder to cry on when your world falls apart. Based on that description, you may be the Molly yourself.
If you know a Molly or you are a Molly yourself, this may really hit home for you. Although it may appear as though Molly has it together on a surface level, she is living a life of internal pain. Why? She is a little insecure, entitled, and lacks a lot of self-awareness. Yes, everyone is insecure, there's no doubt about that. I even have my own insecurities. However, Molly is anxiously insecure. Based on where she thinks she should be in life, she is constantly comparing herself to those around her. That in itself is torture. Just because you are pretty, intelligent, and have a great job, does not mean your knight and shining armor will be there to take you home. Plus, Molly doesn't understand how she comes off to other people, including her best friend Issa. Yes, Molly is a great friend and has potential to be a great lover, she is in such a dark place that she is secretly envious of those around her. If you are envious, how can you be truly happy for someone else? You can't! So, before Molly finds the one, she has to be in a better place with herself.
For season two, I see Molly taking down her guard a bit. I think she will start working on herself, and start to accept things for how they really are. She won't be the girl chasing little boys anymore, she will be the one fighting them away with sticks (Until she gets herself together). Similar to season one, I think she will meet a new guy (Attractive but there is something about him that will make her break out her comfort zone. Perhaps, he is overweight, another race, or has a child). Rather than blocking her blessings this time, she will give the relationship an authentic chance, allowing herself to love the right way.
Lawrence is damaged goods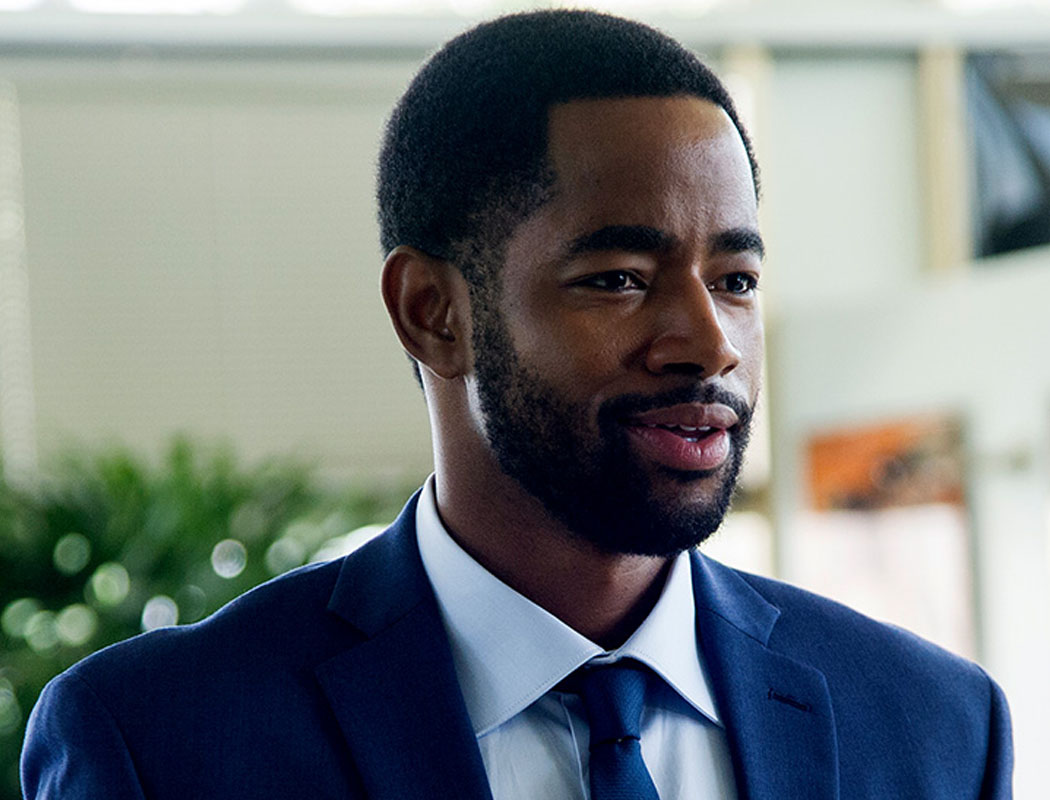 Source: HBO
Let's face it, after Issa cheated, we were all rooting for Lawrence! Why? From a black male's perspective, when the "Good Guy" gets hurt, all hope is lost! Lawrence was loyal, intelligent, and had dreams with Issa. He even took her ring shopping. If that's not dedication, I don't know what else is.
Through his chivalrous endeavors and loyalty, Lawrence has contributed to the demise of his relationship as well. Since we live in a world of double standards, it's easy for us to pick certain sides depending on our skewed perceptions of reality. To us men, Lawrence has done no wrong. Of course not! Issa cheated! Your right, no one deserves to be cheated on, but Lawrence did his relationship a disservice through his unrealistic expectations and complacent behavior. Lawrence assumed Issa would "always" be there for him while finding himself and job hunting for four years, since that's how he perceived love. Remember, this is the same man who turned down every job offer until he found the right one in his field. The dream job that he found after four years of searching, that he almost turned down to pursue his dream again. Lawrence my brotha, why can't you pursue this dream and work a 9 to 5? If you were turning this dream into a reality, you would have created the app during the first year of unemployment.
I could totally see Lawrence becoming a similar version of season one Molly. By season two, he will have it all, a great job, developing his app, partaking in a lot of sex, and much more. Internally however, Lawrence will be in a dark place. I doubt he would have fully dealt with his breakup in a healthy way. For instance, we already saw him sleep with the bank teller on finale night (Which is how us men cope, doesn't make it right though). At first, Lawrence will view himself as the victim, and glance over his connection to the breakup. By the end of season two, he will most likely ruin a potential future with a new love interest (As we know, hurt people hurt people), and then reflect on his relationship with Issa. Hopefully, Lawrence will connect the dots sooner rather than later.
Issa is so sick of love songs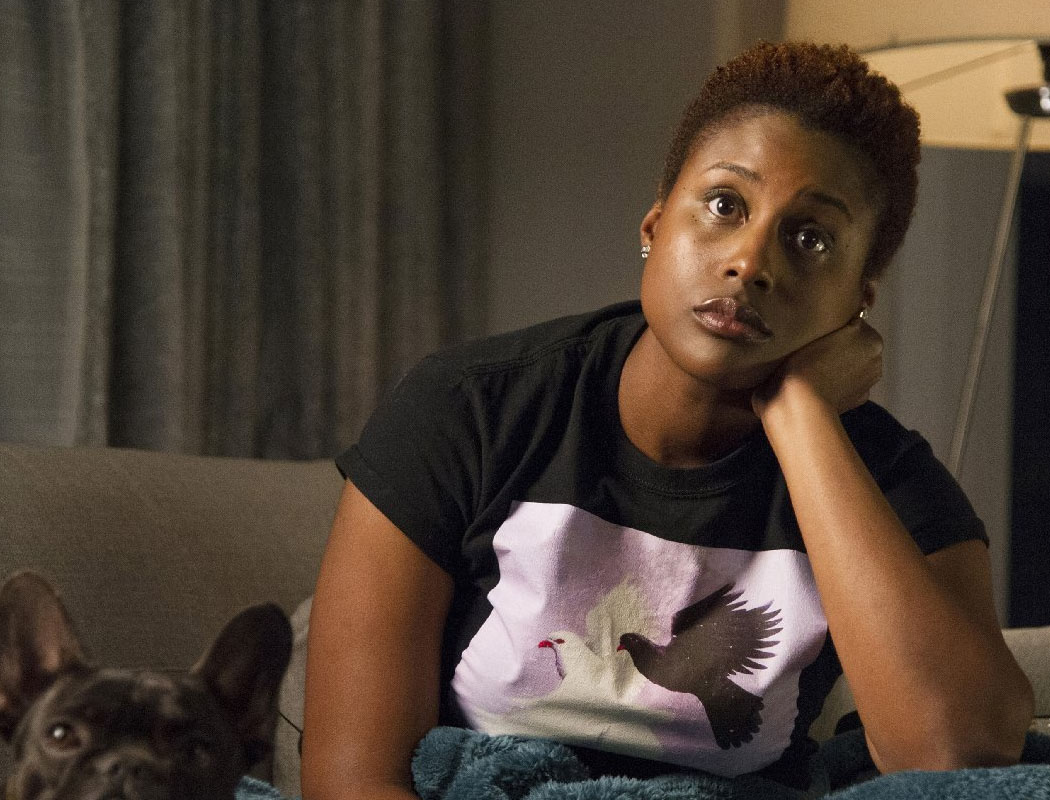 Source: HBO
Issa won my heart over at the beginning of the series. Unlike most female characters on television, Issa is in a lane all by herself. Main characters are usually well grounded and usually depicted as the girl next door type. However, Issa's characters is certified awkward and completely vulnerable throughout the series. She makes actual mistakes, and her lack of verbal communication is completely understandable. Since the first episode, it's difficult for Issa to actually express how she feels. I'm not sure if it's a lack of confidence or her inability to express current thoughts. Whatever the case may be, she is such a personable character.
Not only is she a great character, Issa Rae breaks the barriers of traditional beauty standards in Hollywood. It just goes to show that you don't have to have a long weave or surgically enhanced body parts  to be a role model or considered beautiful in the industry. Issa's smile alone brings her character to life.
Similar to most twenty something year olds, Issa handled her relationship completely wrong. Let's be honest, there is no manual for love. It's really a game of trial and error. So, for Issa, she did the best she could. Now, I am not condoning her cheating twice, but Issa put herself in a difficult position. She was tempted to try something new, but wanted to keep Lawrence for convenience (Love, her relationship, and the amount of time she invested). Yes, she loved Lawrence, but I think she fell out of love with him. Unfortunately in life, you can't have your cake and eat it too, especially at the expense of someone else's heart. Of course, Issa slept with her ex. Honestly, she should have followed through with her break-up with Lawrence at the beginning of the season, but you live and learn.
When Issa slept with Daniel, we all saw it coming. I gave her a little benefit of the doubt at first, but I knew she was headed on a dark path when she invited Daniel to speak at her job. Ironically, the moment that slept with her ex boyfriend, she started to see a change in Lawrence's behavior. Unfortunately, it was too little too late since Issa mentally checked out the relationship a long time ago (That's another reason why I appreciate this show. It puts a spin on the stereotypical gender roles.)
In season two, I think Issa will reflect and learn how to communicate effectively. Trust me, it's not an easy thing to do, but she will figure it out. Also, dating again will be rough for Issa. Matter of fact, I doubt she will even date at the beginning of season two. Depending on how much time has passed, I could see her still mourning the loss of her relationship with Lawrence. I predict that Issa will run into Lawrence, and he will be this new person. The man that she hoped he would be when they were together, but he still doesn't want her back. Although she is heartbroken, she has to push forward.
Final Thoughts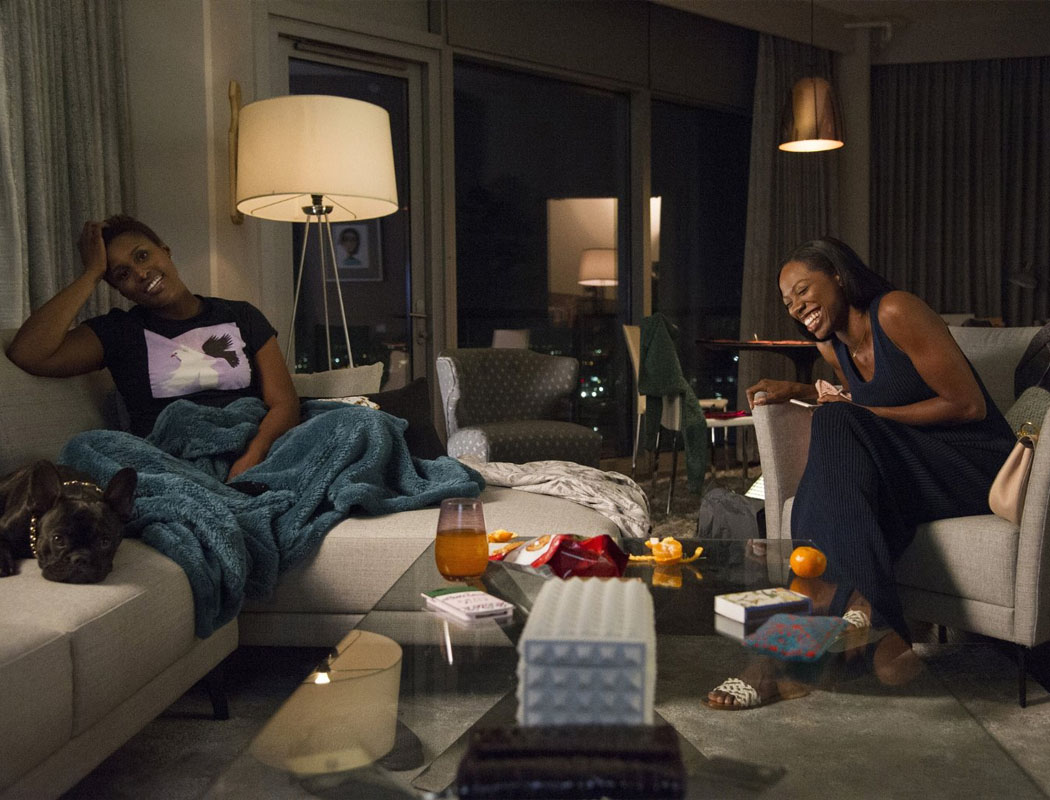 Source: HBO
All and all, great job Insecure. You have successfully ruined social media for the next weeks. No seriously, I think Insecure's first season was remarkable. I look forward to season two sometime next year. What do you think about the show? Let me know in the comments section below.
Thanks for reading!