Source: CBS
It's that time of the year again! America's favorite reality tv series, Big Brother, is back on CBS for it's 19th season. After a year of auditions, a whole new group of houseguests move into the Big Brother house with one goal in mind, to win the $500,000 prize. For three months, they will be completely cut off from the outside world. This Summer, the men and women moving into the Big Brother house will be enticed by more temptations and face more consequences than anyone in the history of the game. This season is the Summer of Temptation. So, what will it take to win it all? There's only one way to find out. It's time for Big Brother 19!
Move In Time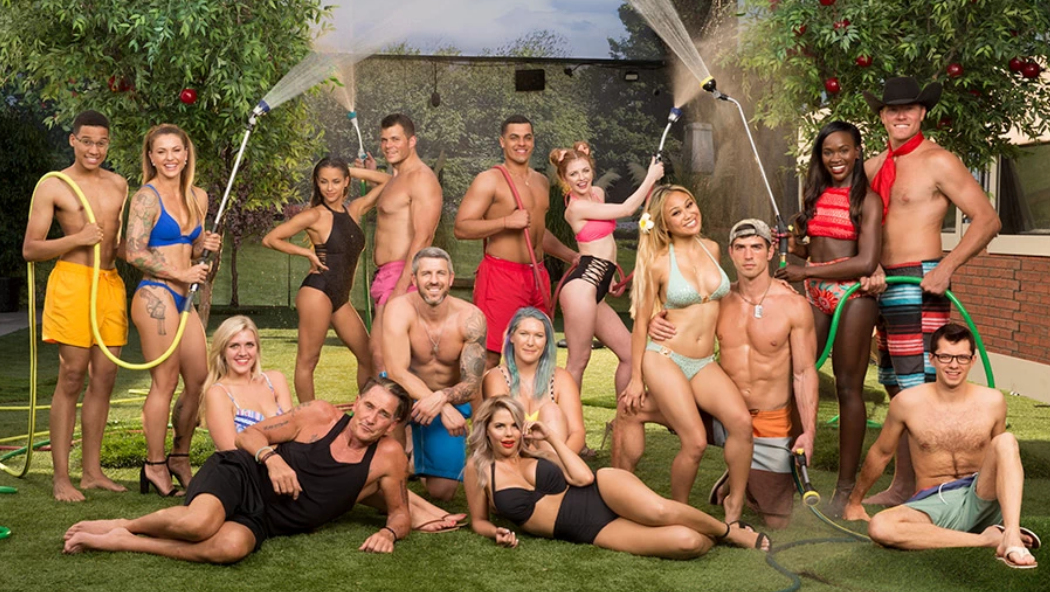 Source: CBS
We are introduced to the first group of houseguests through a series of montages and clips prior to entering the house:
Christmas Abbott, a 35 year old fitness superstar currently residing in Raleigh, NC.
Jason Dent, a 37 year old rodeo clown currently from Humeston, IA.
Alex Ow, a 28 year old eco-friendly marketing rep currently residing in Camarillo, CA.
Kevin Schlehuber, a 55 year old stay at home dad from Boston, MA.
Dominique Cooper, a 30 year old government engineer currently residing in Woodbridge, VA.
Mark Jansen, a 25 year old personal trainer currently from Grand Island, NY.
Elena Davies, a 26 year old radio personality currently residing in Dallas, TX.
Ramses Soto, a 21 year old cosplay artist currently residing in Grand Rapids, MI.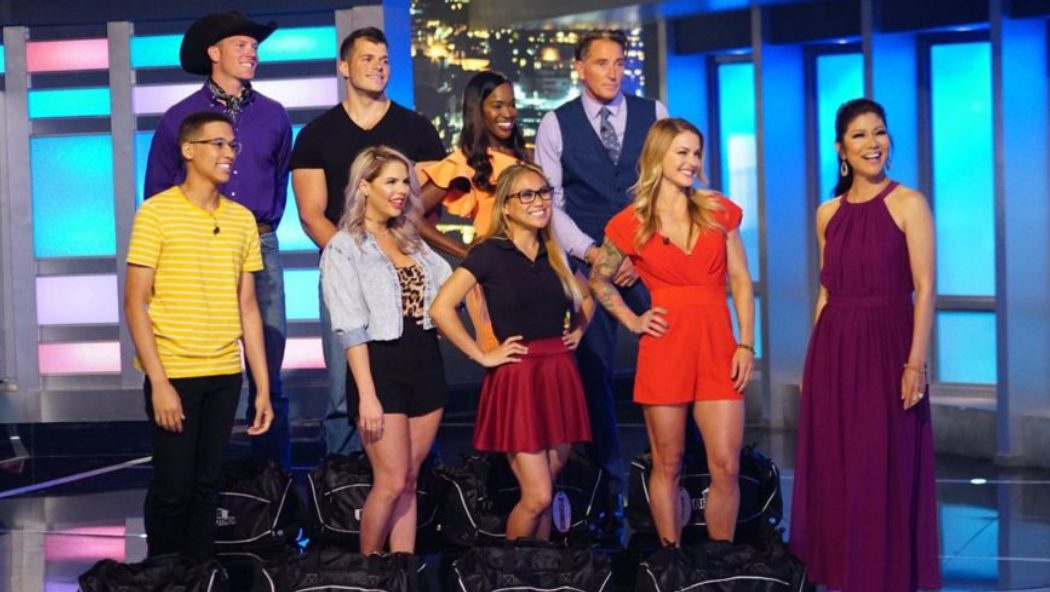 Source: CBS
A few minutes later, we are then brought back to the house, where the houseguests are greeted by Julie. Through a unanimous draw, the first four to enter the Big Brother house are Alex, Mark, Ramses, and Elena. Without any hesitation, the first four houseguests enter the house like a group of wild animals, looking for bedrooms right away. Jason, Dominique, Kevin, and Chrimstas, enter shortly after.
For the round of introductions, we meet another diverse group including:
Cody Nickson, a 32 year old construction sales rep currently residing in Plano, TX
Raven Walton, a 23 year old dance teacher from DeValls Bluff, AR
Josh Martinez, a 23 year old hair care sales associate currently residing in Homestead, FL
Cameron Heard, a 24 year old microbiologist currently residing in Woodbridge, IL
Megan Lowder, a 28 year old dog walker currently residing in Phoenix, AZ
Jessica Graf, a 26 year old VIP Concierage currently residing in Los Angeles, CA
Matthew Clines, a 33 year old renovation consultant from Arlington, VA
Jillian Parker, a 24 year old timeshare sales rep currently residing in Las Vegas, NV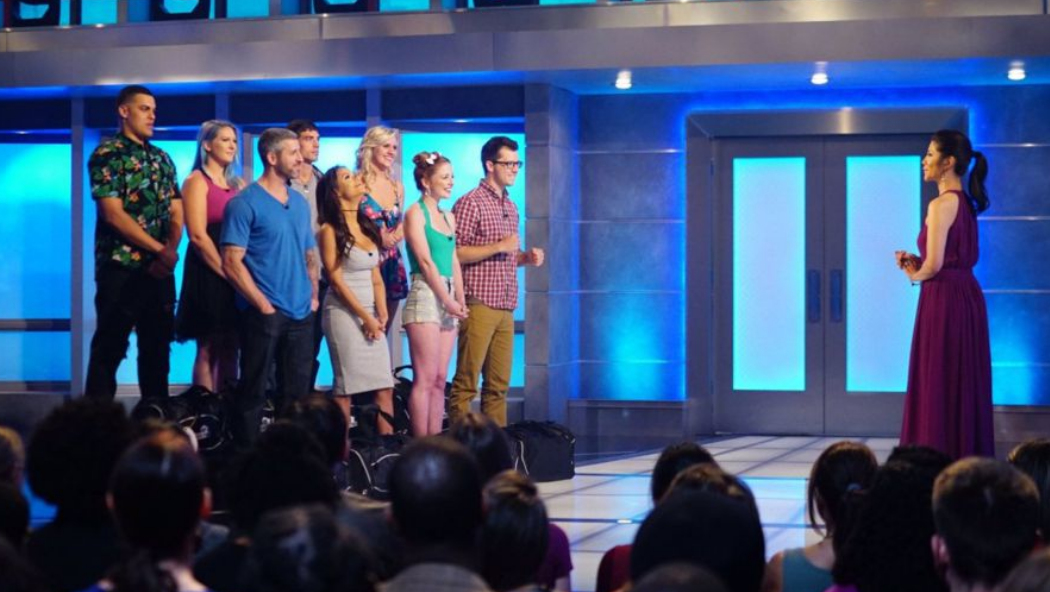 Source: CBS
Similar to the first group, Julie welcomes the houseguests to their new home. The first four to enter are Cameron, Jillian, Matt, and Raven. When entering, they are greeted to a round of cheers and applause from their new roommates. Cody, Jessica, Josh, and Megan are the final four to enter the house.
Garden of Temptation

Source: CBS
Once we get through a round of formal introductions, the houseguests meet in the backyard to experience their first temptation, the Garden of Tempation. Here, each houseguests will sit in a sequestered pod. The houseguests are offered $25,000. The identity of hosueguests that accepts the offer will be anonymous. However, their actions would unleash the first twist of the season. Kevin, the 55 year old stay at home dad took the offer. In doing so, Kevin has two consequences. He is unable to win in the first HoH competition and has unleashed the first twist in the house.
Twist Unleashed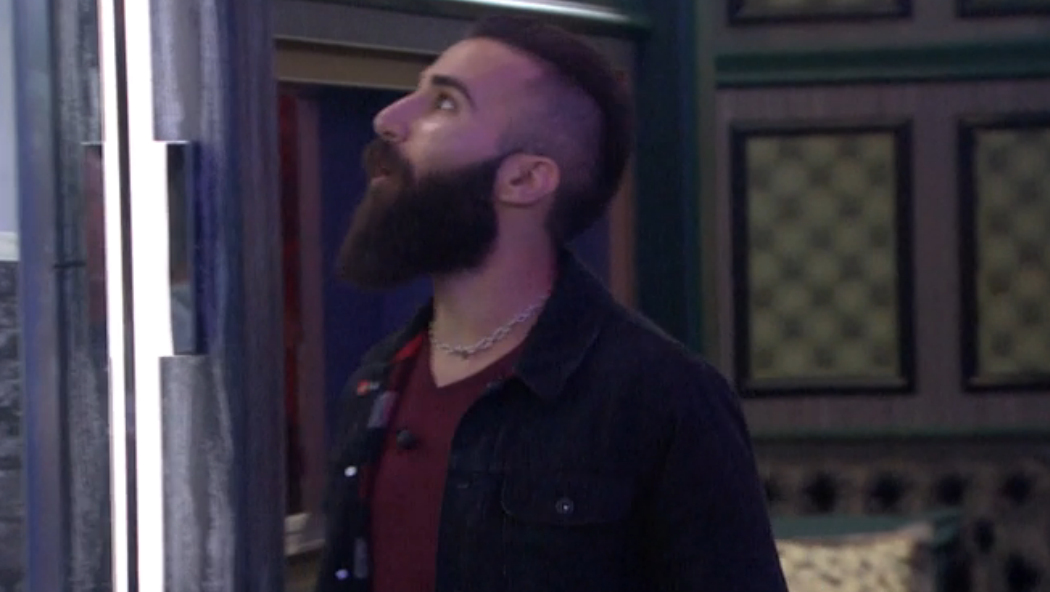 Source: CBS
After leaving the Garden of Temptation, the houseguests are still in shock. Then, the doorbell rings. Fan favortie, Paul Abrahamian, the 24 year old clothing designer from Big Brother 18, enters the house. Julie announces that Paul is part of the unleashed twist. Although some houseguests were completely star struck, some viewed Paul is a big threat, especially since he was runner-up last season. Cody, the 32 year old construction worker, is ready to backdoor Paul out the game. Megan rallies Jillian, Alex, and Ramses to discuss Paul's position in the game.
After a brief period, Julie is back to announce that Paul is back in the game. However, Paul is not simply moving in to the Big Brother house to play the game, he is taking someone's spot in the first ever Big Brother swamp. Then, Paul was given the task to select eight houseguests to receive a "Friendship" bracelet, which saves them from eviction. Since he didn't have much to go off, Paul gave bracelets to Kevin, Raven, Dominique, Mark, Jason, Jessica, Ramses, and Elena.
Tempted by the Fruit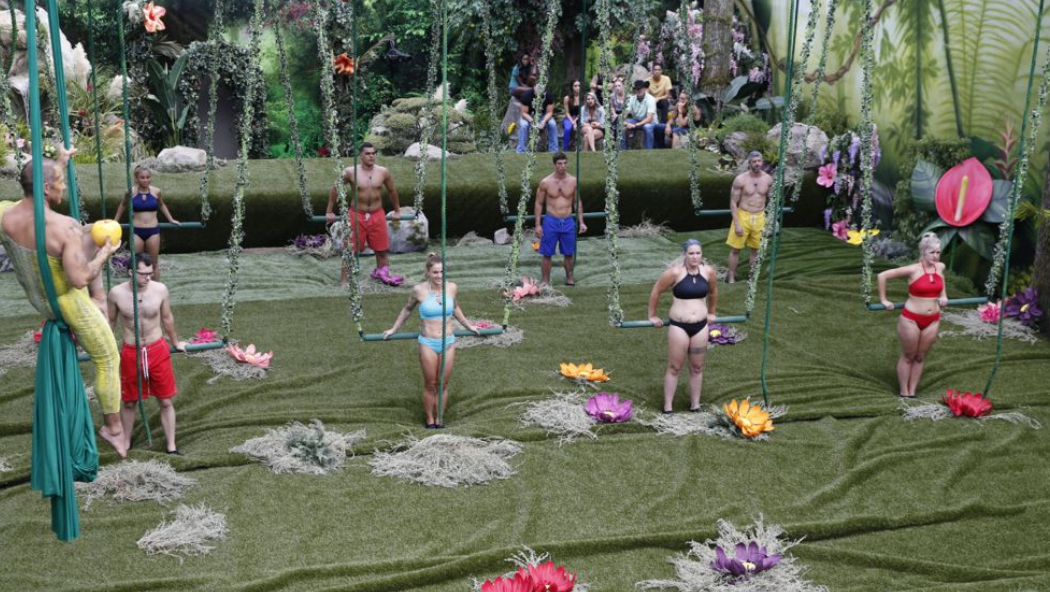 Source: CBS
Now, that the other eight houseguests have to fight to stay in the game, they will compete in the backyard in the Tempted by the Fruit Competition. For this competition, the participating houseguests are required to stand on a trapeze bar while holding on to a rope. Once he or she falls, they will select an apple from a serpent. Four apples contain safety, while the other three apples are "poisonous". During the competition, Julie provides clues, guiding them to the four safe apples. The last houseguest standing has guaranteed his or her safety from the eviction, and the three houseguests with poisonous apples would be nominated for the first eviction. Jillian is the first to fall, followed by Megan. Josh takes a chance and grabs once of the apples, the same with Cameron. Christmas and Matt eventually drop, leaving Alex and Cody in the competition. After a lengthy conversation, Alex can't hold on anymore and drops, giving Cody the win.
The Reveal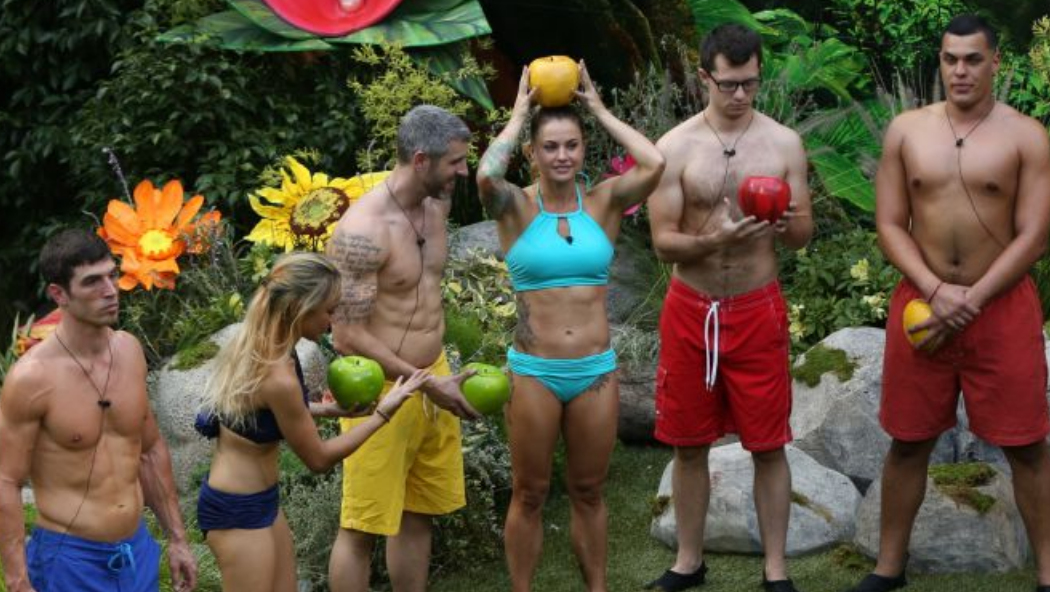 Source: CBS
Now that everyone has fallen, it's time to open each apple. Alex and Matt are safe, as Christmas and Cameron received a "poisoned" apple. Josh and Megan are both safe, and Jillian is left with a poisoned apple as well.
Temptation Twist Power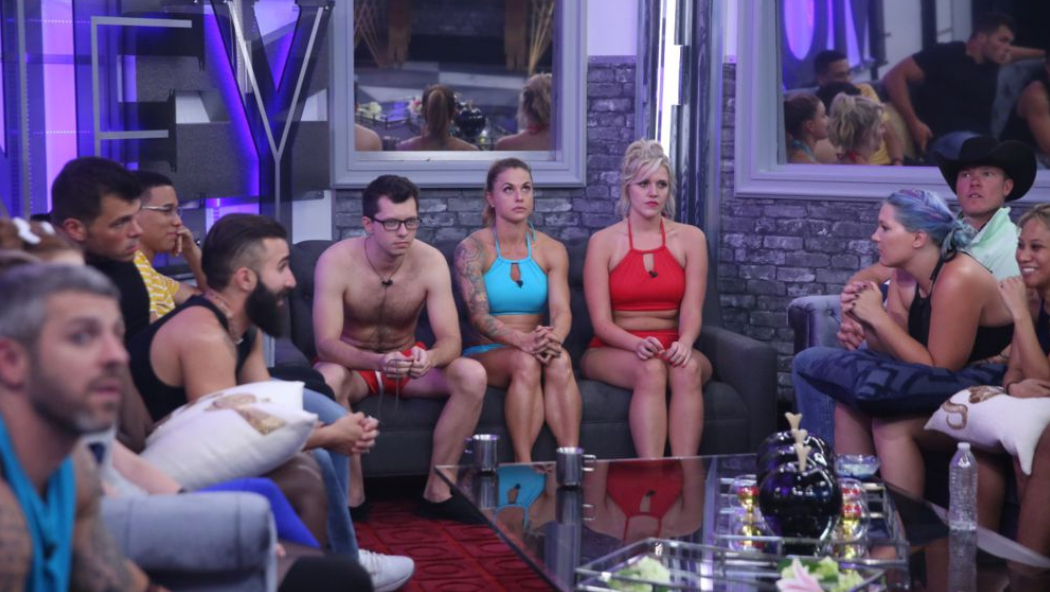 Source: CBS
Back in the house, Julie tells the three nominees, Cameron, Christmas, and Jillian that they can either participant in a third competition to decide who goes home or let the other houseguests vote to decide. In a strange turn of events, Jillian and Christmas vote for a houseguest vote, while Cameron votes for the third competition option. Remember that time Christmas was a fitness celebrity? She was not trying to participate in anything physical.
Eviction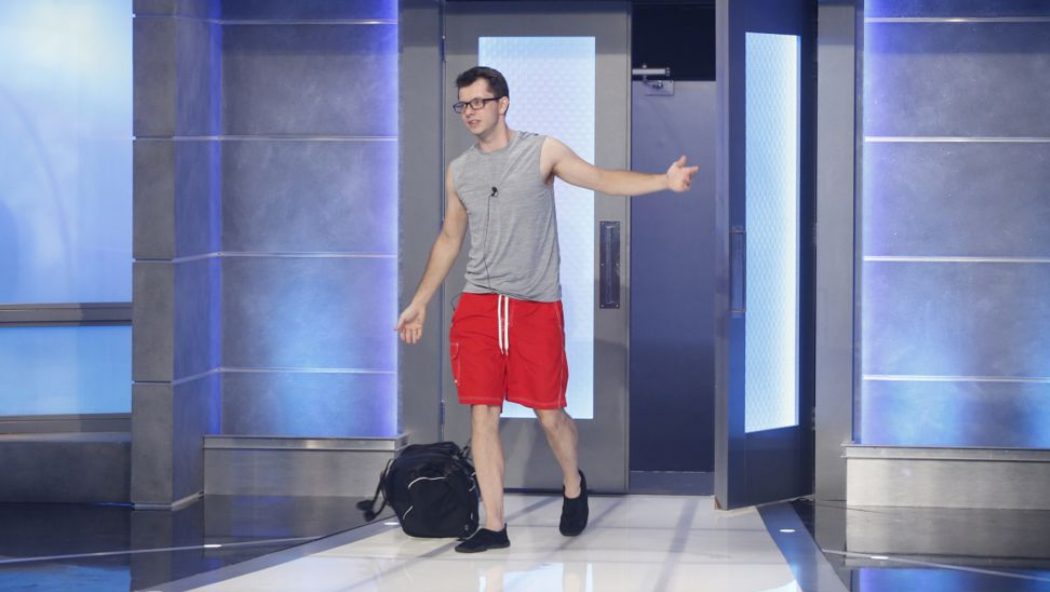 Source: CBS
There was a last minute scramble right before the eviction. Unfortunately, one houesguest fell short. In the case of a tie, Paul will be the sole vote to evict. One by one, each houseguest went into the diary room to cast their vote. Receiving eight votes, Cameron the 24 year old microbiologist, became the first houesguest evicted from the Big Brother house.
Opinions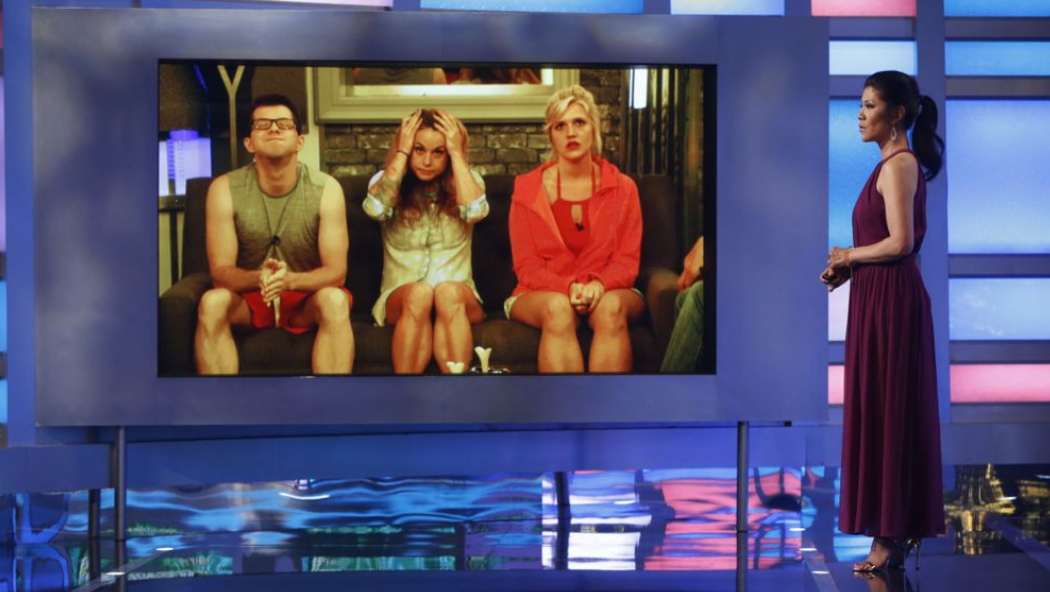 Source: CBS
Okay, so I'm going to keep this brief and optimistic. I actually love this new group of houseguests. Not only are they very vibrate, they are also a lot more mature age wise. Big Brother usually casts a lot of 20 something year olds. This season, the cast is mostly in their late 20s, and early 30s.
As far as favorites, I don't have one yet. However, certain houseguests have made a lasting impression on me. I'll provide more details as the weeks play out.
Lastly, I am actually happy to see Paul again, I just don't like the circumstances. Paul would have been perfect for a second all stars season. We will see how this goes.
Overall, I am very impressed so far. There is not much to go off, but the season looks promising. I will be back at the beginning of next week to bring you the remaining week one summary, followed by week two. I'm a little behind, so I'm trying my best to keep up with the show.
Until we meet again,
-Bryce Lennon